Managing a website is hard. Managing a WordPress website with 20+ plugins is even harder… but managing 20 such websites that are on different hosting servers and using different versions of WordPress and numerous themes is the hardest!
What if there was a simpler solution to manage your business website(s)?
Although many website management tools exist on the market that you can use to manage your website, one such tool is MainWP which offers the flexibility and support required to manage and control multiple WordPress sites from a single dashboard.
This article will comprehensively review MainWP and see what makes it different from the rest of the website management tools.
Let's see MainWP in action.
Overview: Single Dashboard to Control All Sites.
MainWP makes it comparatively easy for anyone running multiple websites to manage all of them through a single screen. Users can see each detail of their websites on the dashboard, including the number of plugins, themes, and core versions that require updates.
The dashboard is your top-level view of all your websites. You can control anything you want, such as adding or removing plugins, installing themes, or making changes to the installed themes/plugins.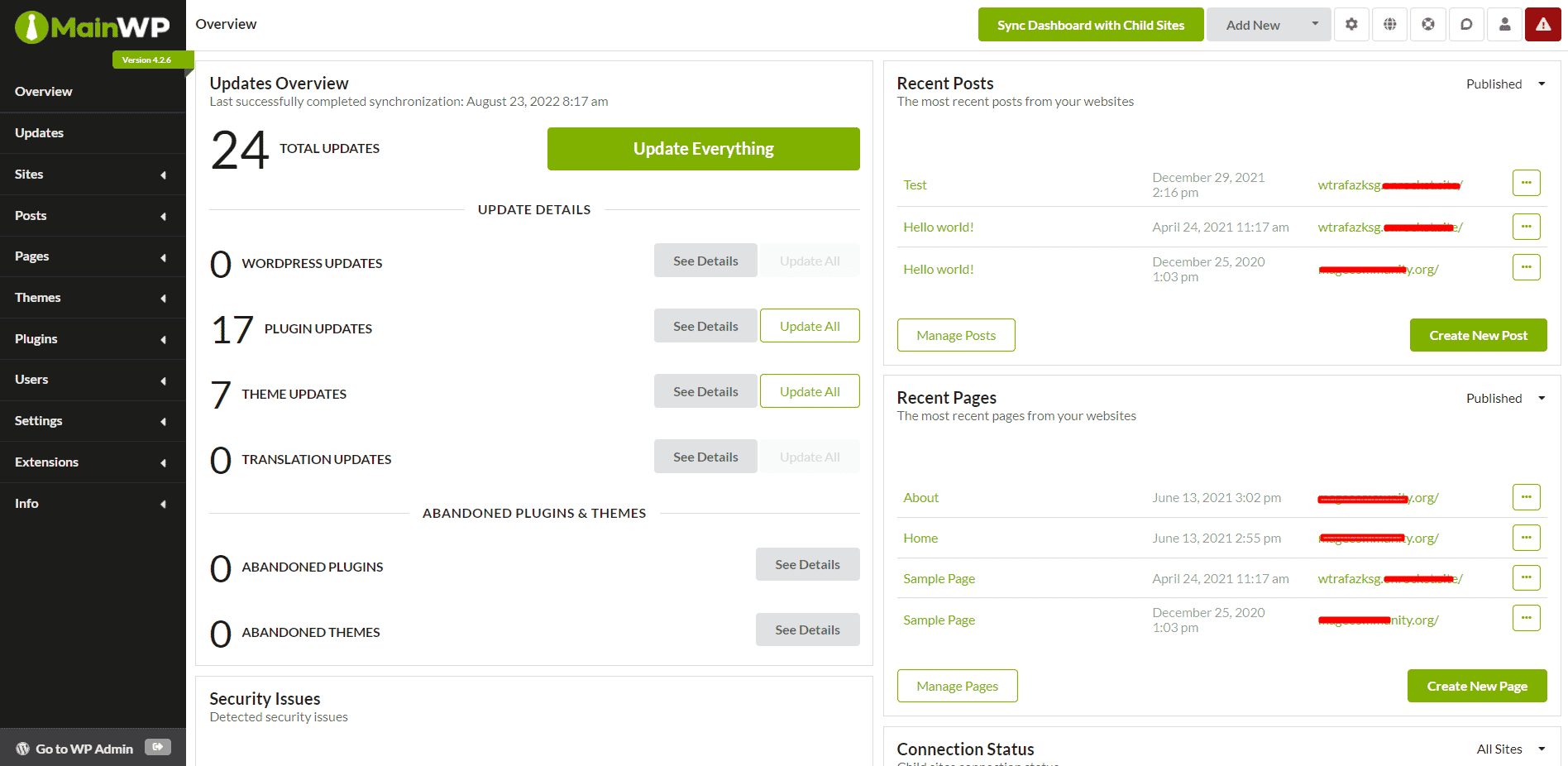 Features of MainWP Management Plugin
MainWP offers an interactive way to manage and maintain your websites on the internet. Some of the core features of this website management tool include: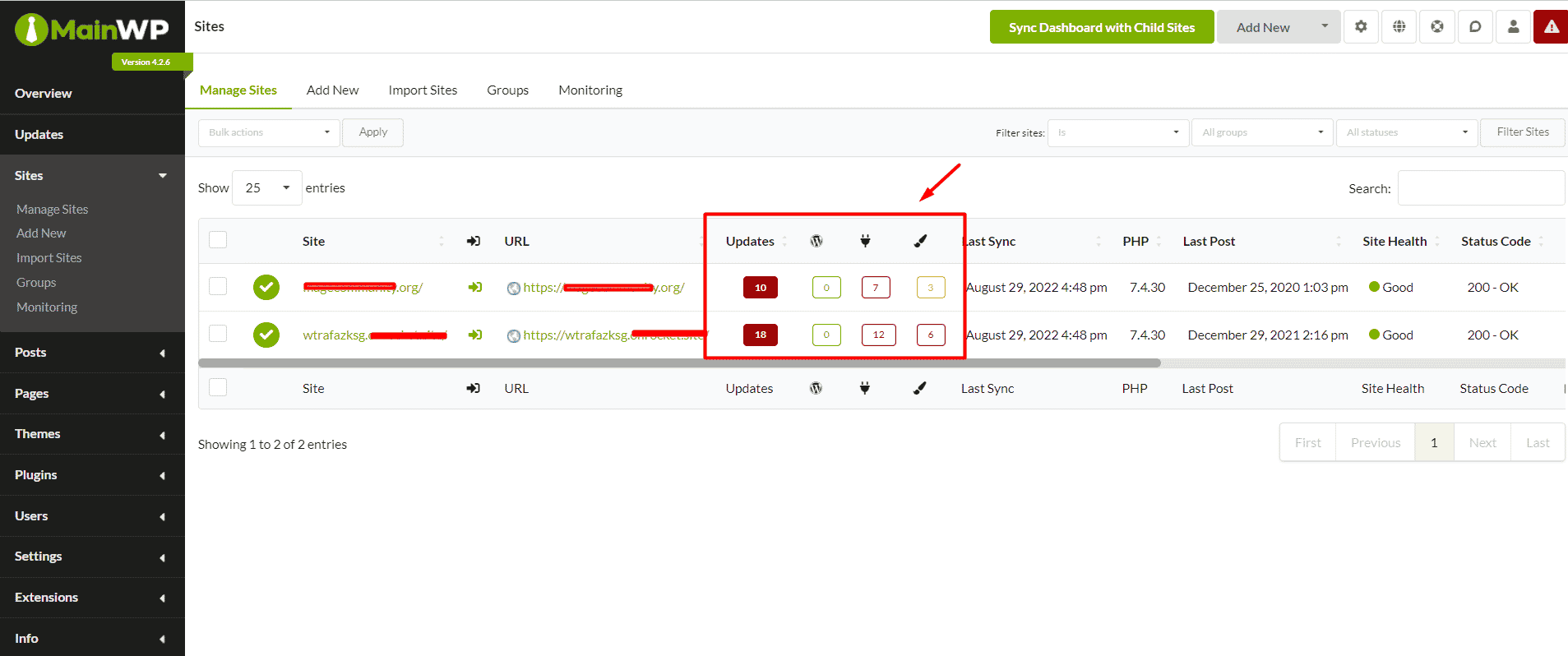 After integrating any website with MainWP, you will be able to see the updates it requires. These can be related to plugins, themes, or even WordPress core. Users can simply click a button and update all these. It is as simple as that.
You can also check each site separately without leaving the dashboard to see if they require any updates. The status of the update is shown with each website connected to the MainWP Dashboard.
Another great feature of MainWP is that it allows you to bulk install themes or plugins on your websites. Let's say you want to install a plugin on 5 websites you manage at once. Now installing that plugin manually on all these websites is a cumbersome task.
But with MainWP, you just have to select the theme or plugin you want to install and check the number of sites it needs to install. That is it. The plugin/theme will be installed instantly.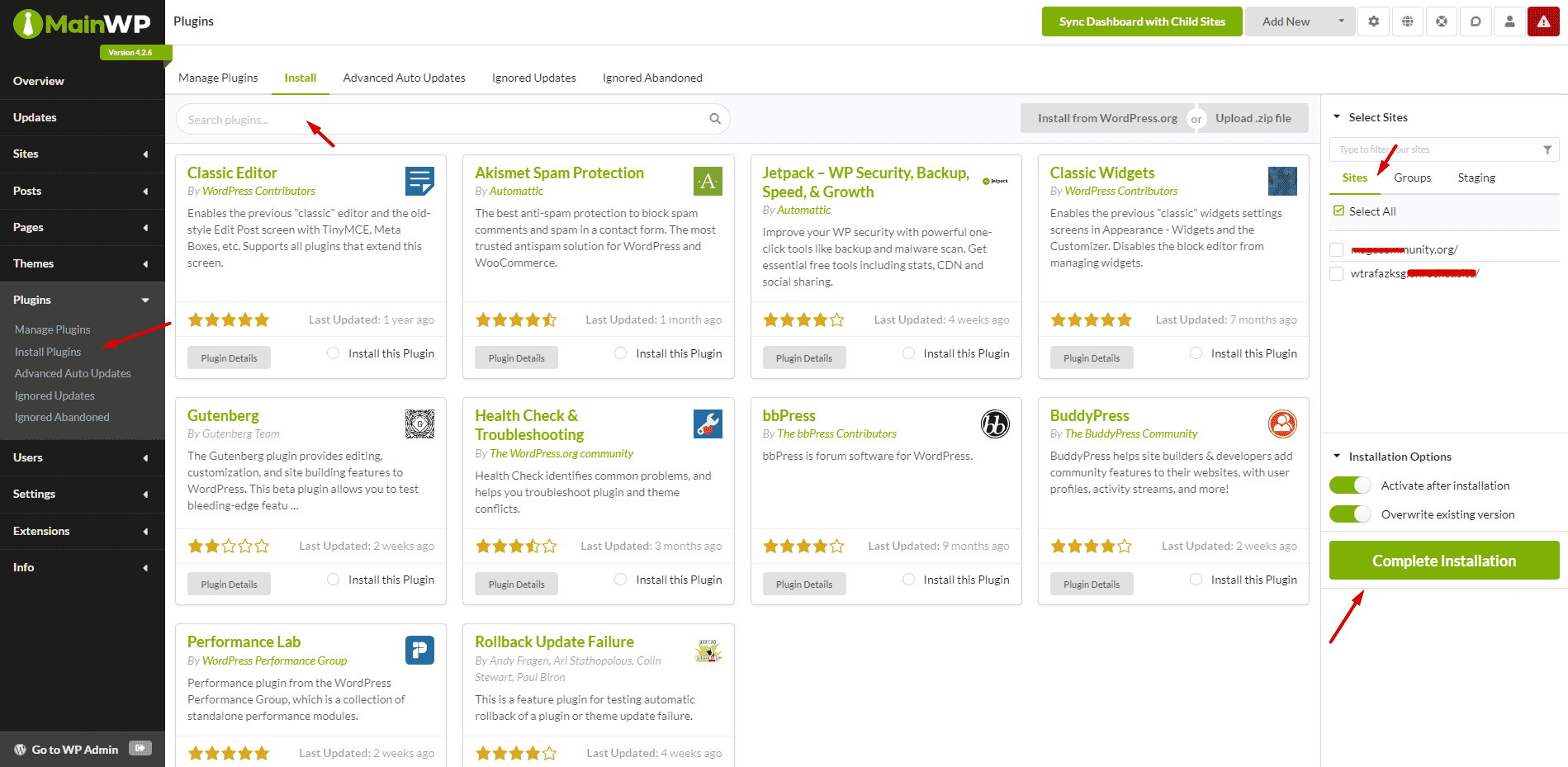 The best part about MainWP is that you can add/remove/edit content on all website pages/posts at once.
Let's say you want to publish blogs to all your websites on the same day. If you do that manually, it will take 3 to 4 hours. But with MainWP, you can easily create and update posts or pages within a few minutes.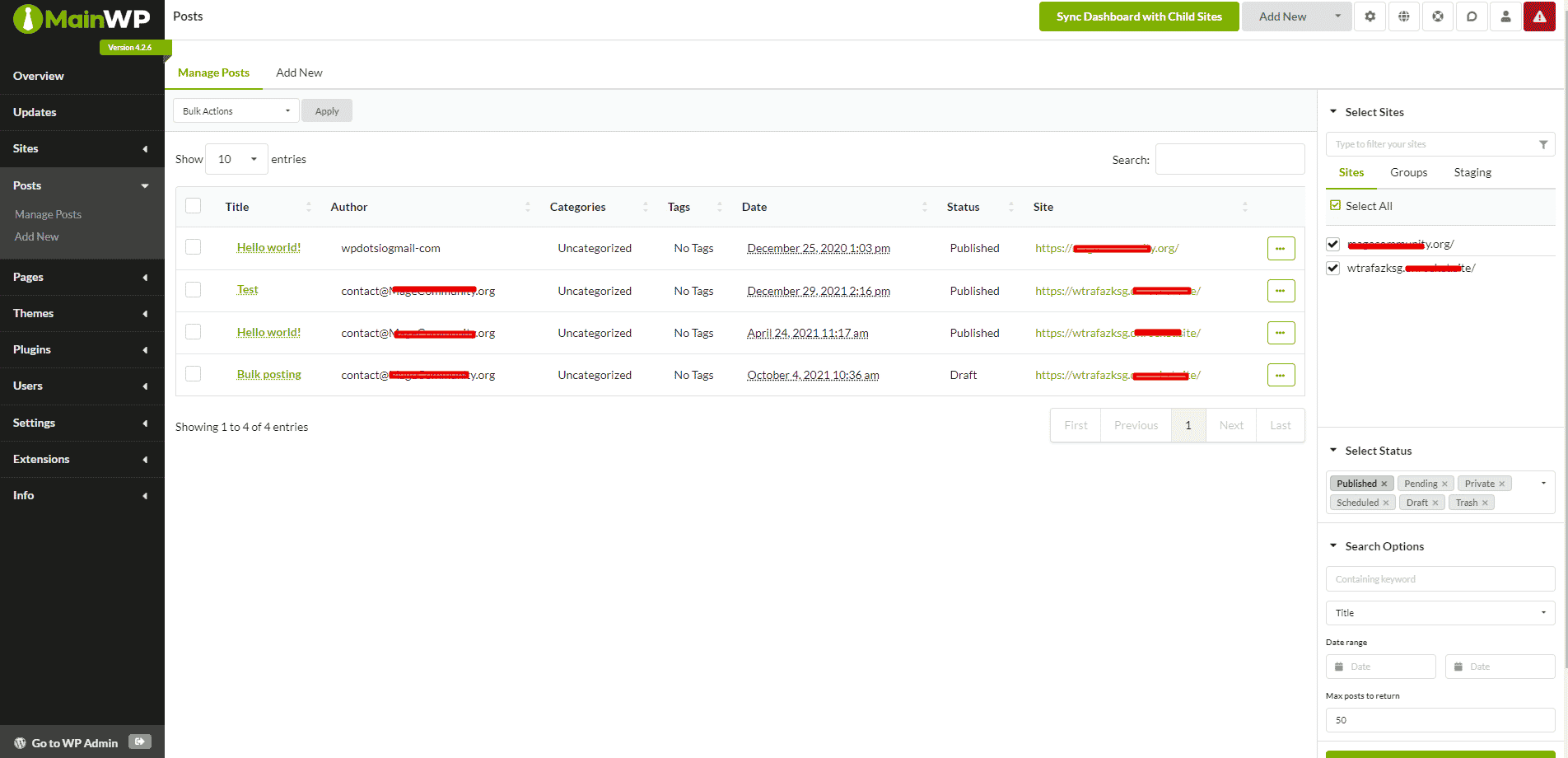 Creating site backups is crucial for any business, and the MainWP site management tool makes that easy for everyone. You can integrate with top backup plugins like UpdraftPlus, BackUpBuddy, and others.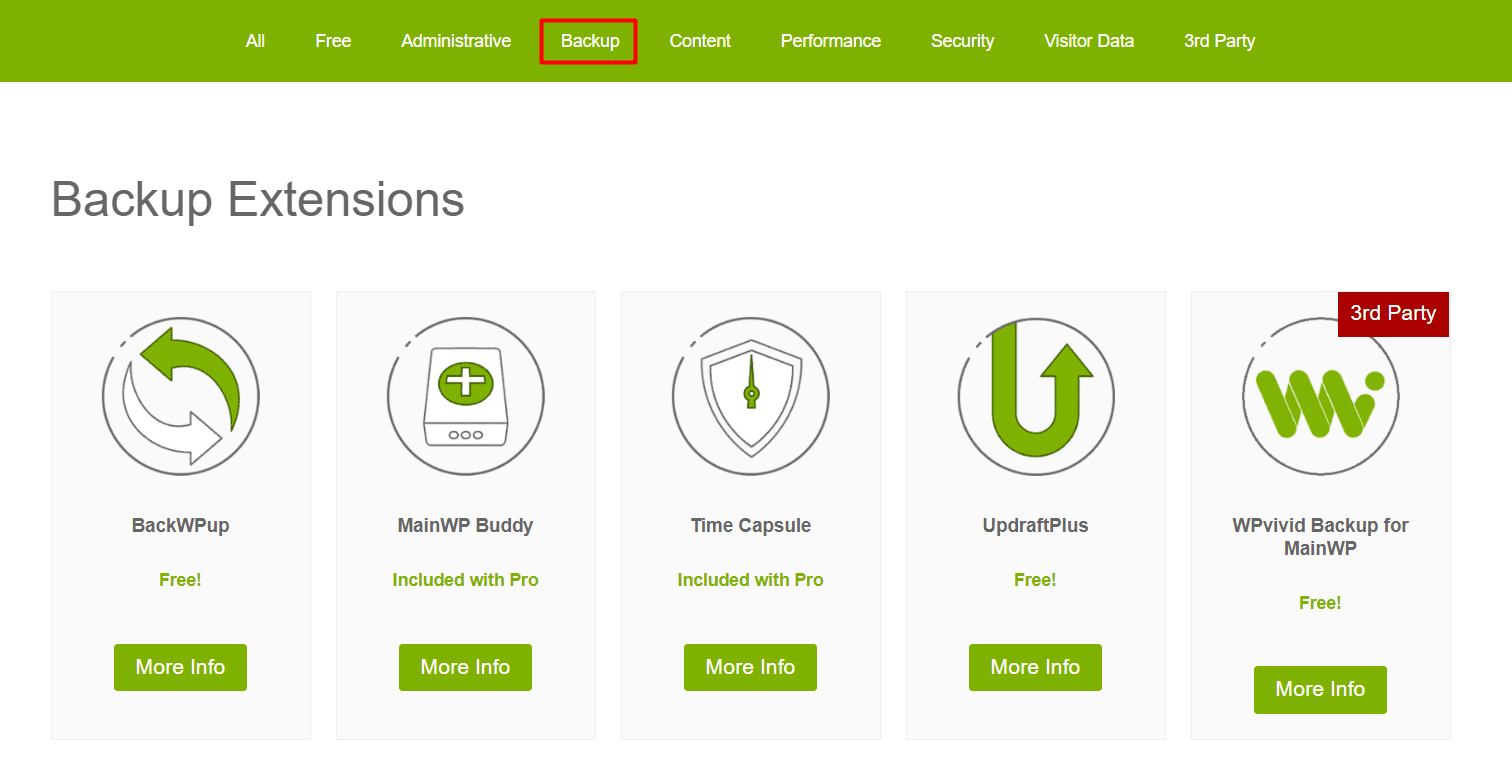 MainWP also allows users to control the settings of most of these plugins from within MainWP. Of course, this feature is exclusive to only the plugins available on the MainWP extensions page.
MainWP can be integrated with any security plugin of your choice. By default, it offers integrations with Sucuri, WordFence, WP Activity Log, and many others.
The MainWP extensions page lists all security plugins with which MainWP can be integrated. Integration means you can alter the settings of these plugins directly from the MainWP Dashboard.
MainWP offers uptime and performance monitoring services. Users can easily integrate services like Uptime Robot, Site24x7, and Better Uptime with their websites to get performance updates regularly.
MainWP can also configure all these uptime monitoring services with just a few clicks on the single dashboard instead of installing the same software on different websites.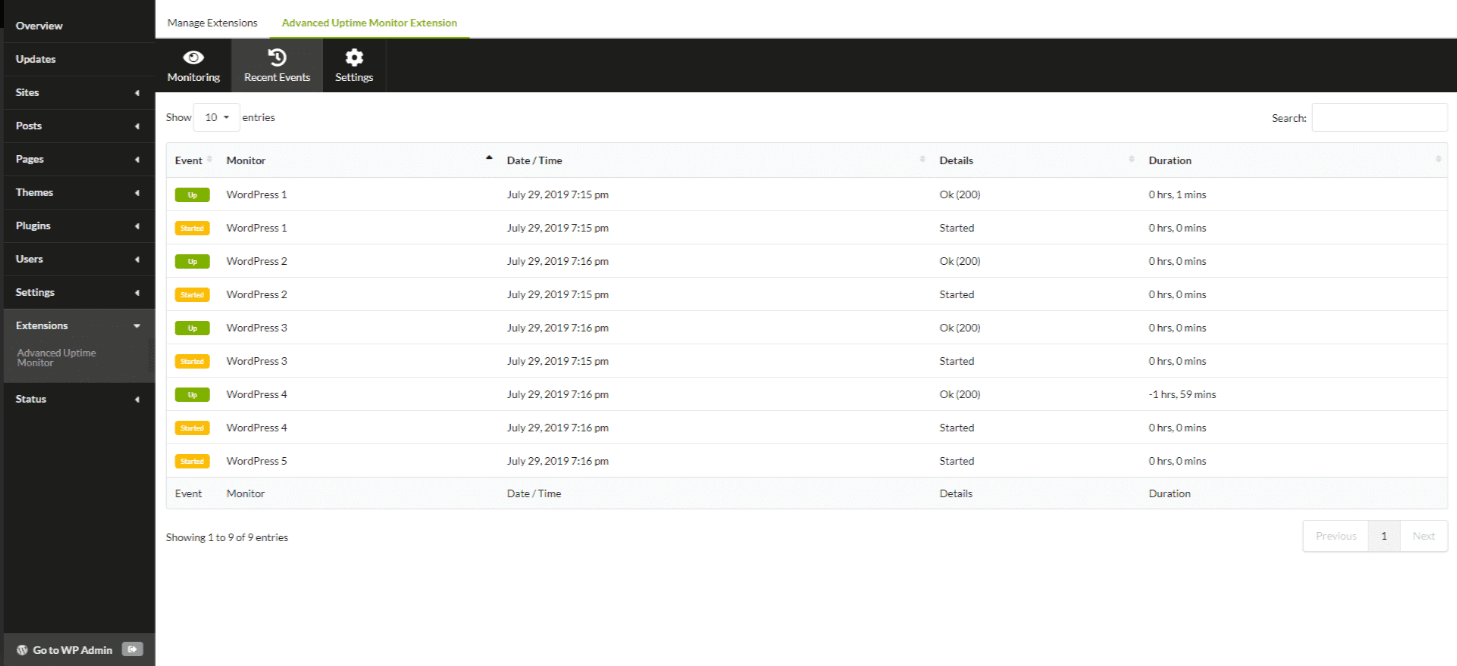 With MainWP, you can create staging sites using the WP Staging plugin. It allows users to easily create and manage staging sites for all sites connected to the MainWP Dashboard.
8) Send Reports to Clients

The best part about MainWP is that you can generate fully-cutomized reports, use your own branding and automatically send them to your clients.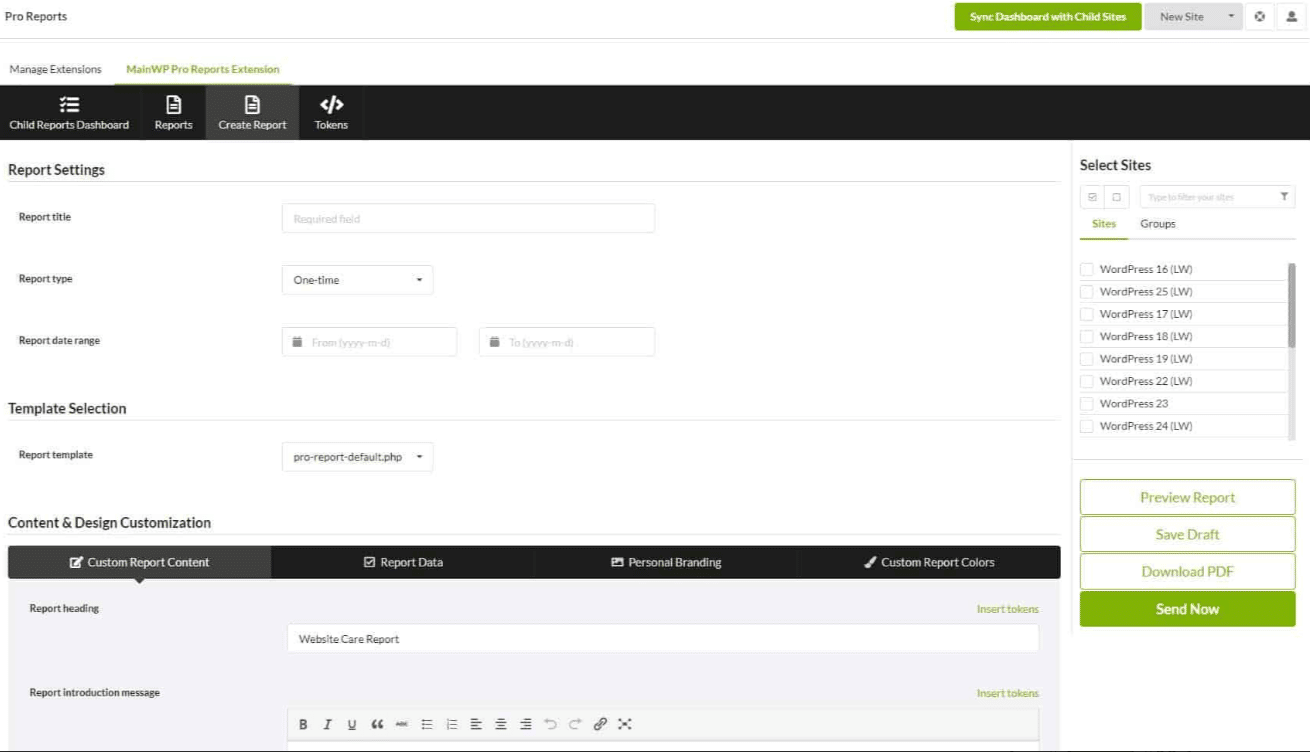 Apart from all these important features, MainWP also lets its users do a lot more on their websites with a single dashboard, such as:
Maintaining Database: Users can clean the database garbage with a button for all websites.
SEO Tool Integration: MainWP supports the Yoast tool by default. You can also add other SEO tools as needed.
Team Control: Allow access to multiple users and control what functions they can manage.
Bulk Setting Updates: Manage the settings of your reports in bulk as and when needed.
Lighthouse: Check the Google Lighthouse stats of all connected Child Sites at once on one screen.
Why Choose MainWP Site Management Tool?
So, what makes MainWP stand out from its competitors, and why would you choose to utilize MainWP rather than one of its rivals?
Self-hosted & Privacy Focused
MainWP is an entirely self-hosted solution. You are not dependent on a third pary SaaS dashboard.
MainWP is installed on your WordPress website on your preferred hosting provider, ensuring your clients' information stays with you ONLY!
Another benefit of MainWP is that it allows you unlimited integrations with no limits. This is not possible with its competitors as they all offer certain limitations to the users.
Lastly, MainWP offers a simple-to-integrate solution to its users. Take any plugin from the 'Extensions' page on MainWP, and you can easily manage the configuration of that plugin on all Child Sites.
How to Use MainWP for Your Websites?
Let's learn in detail how to set up MainWP on a website so that you can easily manage all websites you own with this simple platform.
First of all, install MainWP Dashboard on your website. You can do a fresh install or install MainWP on your current WordPress installation.
You can install MainWP on even a sub-domain by installing WordPress on it. The installed MainWP will become the 'parent' or the dashboard for managing other websites you own.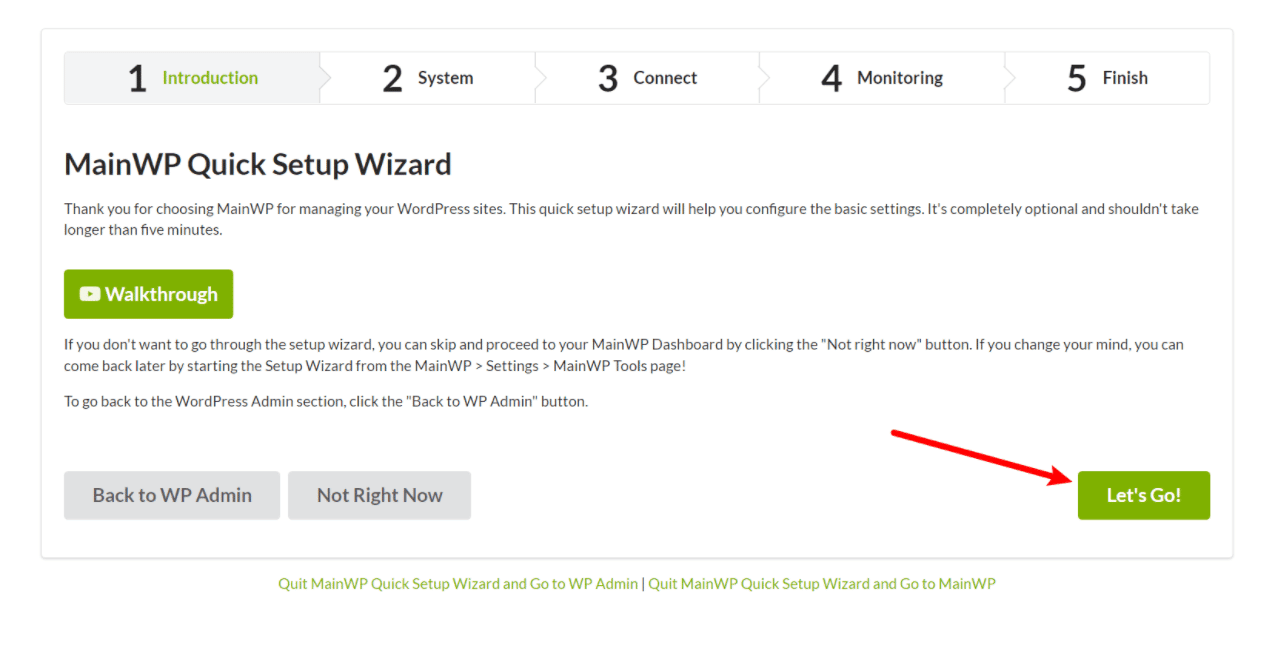 Setting up the MainWP Dashboard
Once your MainWP plugin has been installed on your website, the next step is to set up the dashboard.
This would include checking the PHP version, SSL extensions, and MySQL versions of your hosting, etc.
Now you have to connect your child's websites to the parent MainWP installation.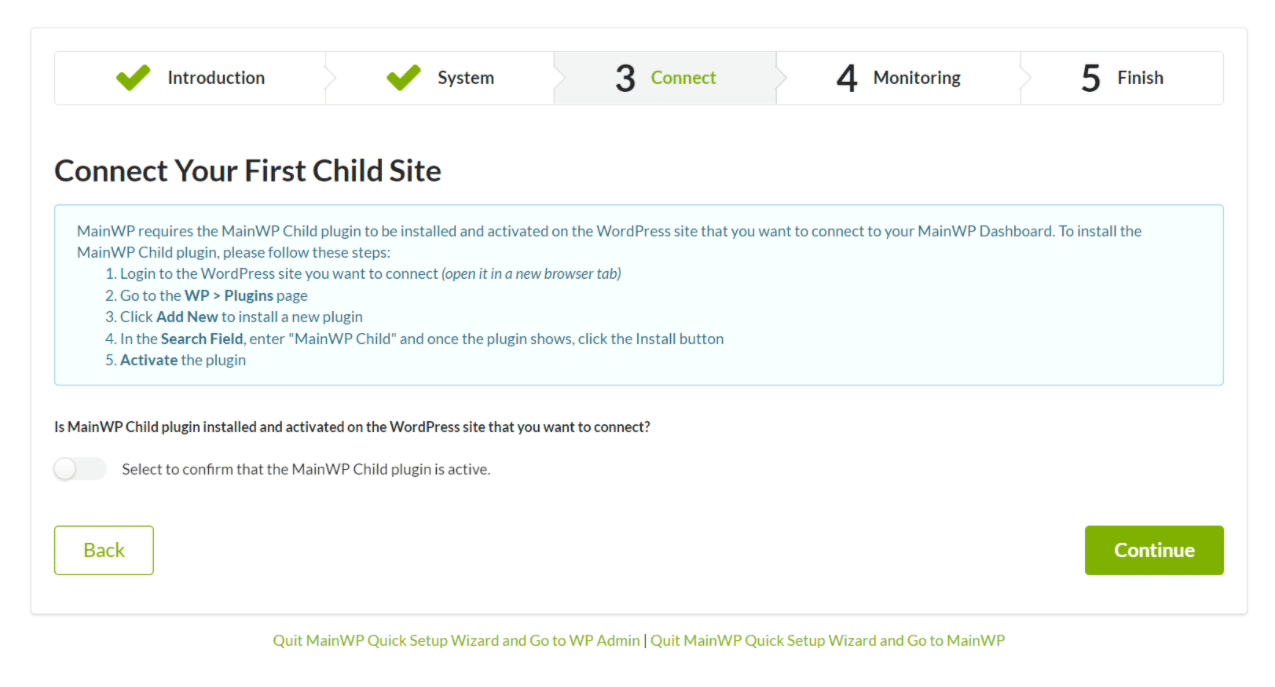 You will have to activate the MainWP child plugin toggle button on the parent plugin of MainWP.
Add the website(s) you wish to manage directly from the MainWP Dashboard.
You will see a congratulations message when the site is successfully connected to the Parent plugin of MainWP.
Accessing MainWP dashboard
You can access the MainWP dashboard from the MainWP icon available on the WordPress dashboard.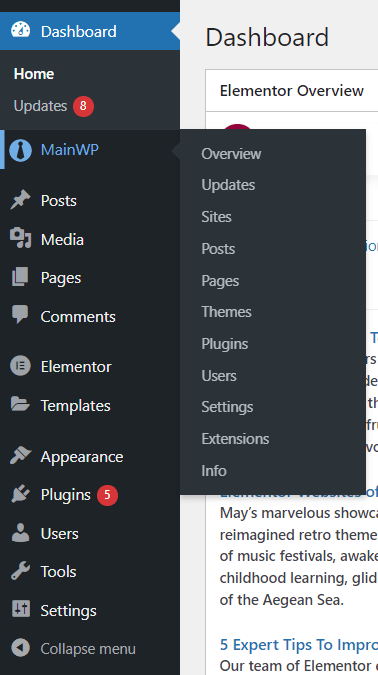 Once on the MainWP Dashboard, you can manage your websites or add new ones.

Pricing of MainWP: Is it Worth the Money?
MainWP pricing is pretty straightforward, you get everything at a single price.
And with the Monthly ($29), Yearly ($199), and Lifetime ($499) options available, there is a MainWP Pro plan for every budget!
Should You Use MainWP for Your Sites?
Definitely! MainWP makes lives more manageable. It is perfect for all those website managers that are running multiple websites.
With the MainWP plugin, users don't have to manually install or remove plugins/themes/posts on their websites. They can save hundreds of hours that would have been otherwise wasted on website management.
We all know that 'Time is Money' and when you save time, you make more money. MainWP lets you do that!