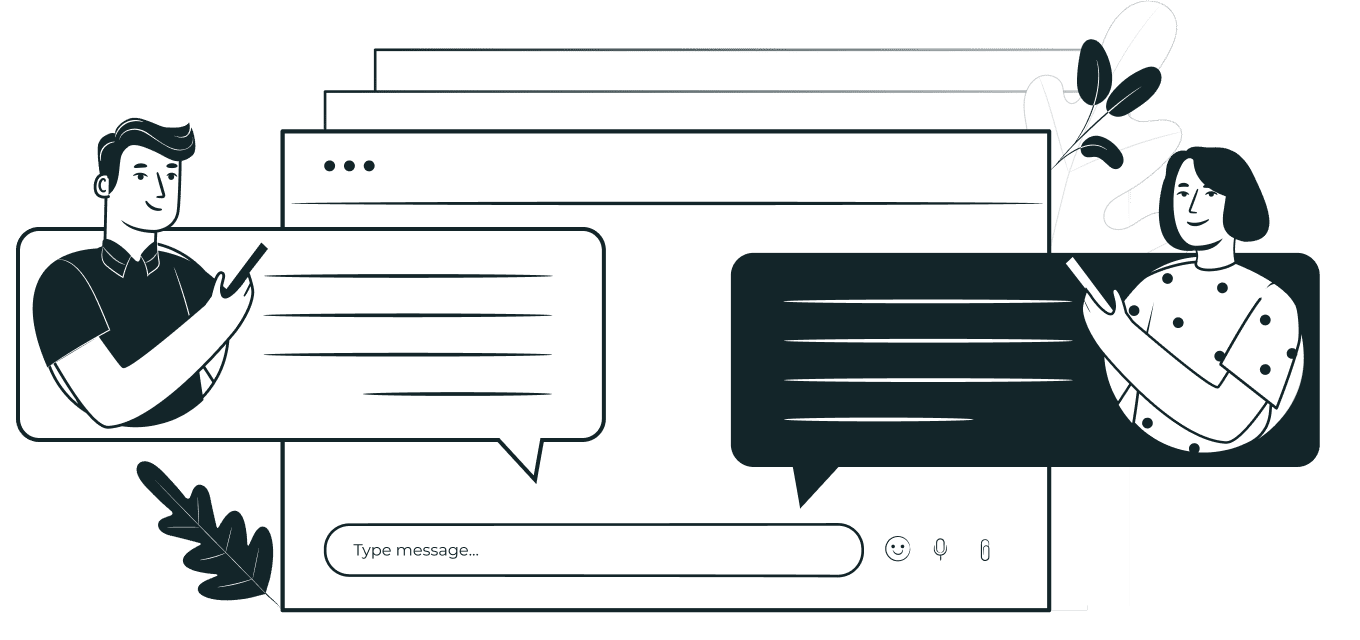 A chat solution available on WordPress and Joomla!
Email marketing is a solution that allows businesses to develop a relationship with their audience. But what if your audience needs to interact on its own? 
AtomChat might be the answer… this extension available on WordPress and Joomla provides a chat accessible by your audience directly into your websites. Do you want to know more? Check this review below! 
Founded in 2010, AtomChat is a company that always believed in the power of chat for business. That's why they built an effective extension able to give to all their users the power to create a community on their own. It helps you to save some time and effort about this segment of your website. 
During the past 12 years their tools helped small businesses to stay in touch with their community, helped doctors to reach their patients, and even helped actual people falling in love through dating apps. 

What to expect from a chat plugin except the ability to provide a reliable text chat. When we think about a chat, we think about:
the ability to start private conversations with other users

a real-time chat notifications for group and private chat

a typing indicator and read receipts for users

a large group chats with open-to-all and public groups support

Emojis 
That is exactly what AtomChat provides! But that's not it, this plugin also provides advanced features like:
the ability to customize chat sound notifications

a secure communication with password protected and invite-only exclusive group

Embedded and docked layouts that can be adjusted in dimensions

Manage and save the conversation on your system
Not so bad isn't it?

In 2022, we know that text isn't the only way to build communities on the internet anymore. With AtomChat, your users can go beyond text chat and enjoy audio and video calling. If you are worried about processing and your own server infrastructure of your website, don't be. Up to 6 simultaneous users can be managed on a call without having any impact on your server or website! This functionality is perfect for meeting or just for letting your users have fun by enjoying each other's company.
Why not let the possibility for some of your users to share some content or ideas with your website community? That's exactly what this functionality is all about! With AtomChat you can allow users to connect with your entire audience by enabling the "to build one-to-many video broadcasting" features. It supports up to 50 viewers. So if one member of your community is interesting, entertaining or simply famous why not give him the opportunity to express himself!
Not only to communicate but also to collaborate
One of the goals of AtomChat is to create a chat platform where users can interact with each other in real-time. But why not use these tools to enhance the chatting experience and promote collaboration. Video calling can be much more productive, and an immersive experience for the users who want to collaborate for work. It allows them to share ideas and thoughts about projects as they can team up to create a collaborative document and process it together. AtomChat is the perfect tool to let your users contribute in real time and ideate with each other.
A new way to improve your income
AtomChat can also be a new way to generate incomes from your website. The plugin provides the opportunity to create membership levels and offers premium access to certain features. This solution offers the opportunity to elaborate a credit deduction system and a charge per minute or a charge per message for your audience. Another way to generate money from AtomChat is to run ads. Inserting a method to generate money from your chat can be a good way to improve the income generated by your website, however it isn't in any case an obligation. You can totally let your user chat for free because sometimes free is more than enough.
Multilingual functionality
Speaking with users that do not speak your language in real-time is absolutely possible with AtomChat! All you have to do is to add your own UI translations from the admin panel and configure the plugin to speak to your users in their language. This functionality is totally amazing for companies with an international community.
Customize your website's chat
You can control many aspects of AtomChat. Due to its admin panel you can configure numerous features like changing color or defining your users behavior and membership level for example. Make your website's chat your own and define your rules.
AtomChat's incredible chat service is not the only thing interesting about it. Their team did an amazing job and completed their plugin with more than 30 amazing integrations. You'll find below the most interesting Addons for our WordPress and Joomla audience. 
AtomChat is developed to work with any WordPress website powered by BuddyPress. This integration can be the solution to all your chat related concerns! Let your user easily have one-on-one conversations or communicate with larger groups directly into your website with this addon. As an AtomChat integration, you can benefit from many functionalities like customizing the appearance of your website chat or give role-based access to your users. This integration works perfectly to let your audience communicate and collaborate every day with ease.
This integration is the solution to all your chat related concerns with your Joomla website powered by JomSocial. Access all the AtomChat functionalities and drastically improve your community experience. This integration allows you to have access to all AtomChat functionalities. Build a chat system into your website to define the rules and conditions and let your users have an efficient chat tool to interact with each other. Please your JomSocial users with vocal rooms and group chats and increase your website attractivity.
AtomChat is a perfect tool to optimize your user experience on your website for WordPress and Joomla. It allows your users to build a community around your brand and to boost your business activity. As previously mentioned it fits perfectly for companies who need to reach their customers through online services like meetings or classes. With this plugin we are pretty sure that you will find everything you need, from messaging to collaborative options offered by AtomChat. We hope that it will help your small business to grow or maybe it will give you brand new ideas…
Have a look at their website: www.atomchat.com